Summaries of November and December CUPA-HR Letters and Advocacy Efforts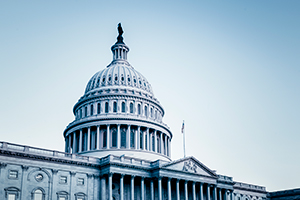 In late November and early December, CUPA-HR joined the American Council on Education (ACE) and other higher education associations in sending letters to Congress and federal agencies regarding policies that significantly impact institutions of higher education. Below is a list and summaries of the letters CUPA-HR has recently signed onto.
Letter to President-Elect Joe Biden and Vice President-Elect Kamala Harris Regarding Executive Action Priorities for Higher Education Under the New Administration
On November 18, CUPA-HR joined an ACE letter to President-Elect Joe Biden and Vice President-Elect Kamala Harris listing several priorities that institutions of higher education hope the new administration addresses soon after inauguration. The letter applauds the Biden administration's announcement to quickly reinstate the Deferred Action for Childhood Arrivals (DACA) protections and requests that the administration takes immediate action to terminate, reverse or replace a number of Trump administration decisions related to higher education.
Letter to Department of Education Secretary Betsy DeVos Urging the Department to Extend Relief for Federal Student Loan Borrowers
On November 20, CUPA-HR and other higher education associations joined an ACE letter to Department of Education Secretary Betsy DeVos requesting that the current suspension of payment and zero percent interest for federal student loan borrowers be extended through December 31, 2021. On December 4, Secretary DeVos announced that the pandemic relief for loan borrowers has been extended to January 31, 2021.
Letter to the Department of Labor Requesting a Withdrawal of Recent Request for Information on Race and Sex Stereotyping
On December 1, CUPA-HR joined an ACE letter with other higher education associations to the Department of Labor's Office of Federal Contract Compliance Programs urging the agency to withdraw the October 2020 Request for Information (RFI) on Trump's Executive Order (EO) 13950, "Combating Race and Sex Stereotyping." The RFI seeks information and materials from the public relating to workplace trainings that involve race or sex stereotyping or scapegoating, which have been prohibited under EO 13950.
CUPA-HR had previously joined an ACE letter in response to Trump's issuance of EO 13950, stating that the timing, content and discordant tone of the EO creates concern, confusion and uncertainty for federal contractors around the country, including colleges and universities. In the newest letter, higher education associations expressed concerns that the RFI does little to alleviate the concerns and uncertainty surrounding the EO as it echoes the tone and terminology of EO 13950.
Letter to Congressional Leaders on COVID-19 Relief for Higher Education
On December 2, CUPA-HR signed on to an ACE letter to House and Senate leaders requesting additional federal funds to support students and institutions during the COVID-19 pandemic. The letter specifically urges Congress and the Trump administration to finalize negotiations as quickly as possible on a supplemental spending bill and requests $120 billion for higher education institutions to support suffering students and campuses across the country.
CUPA-HR anticipates signing on to more letters from ACE as the pandemic continues and the Biden administration continues with its transition. To find future letters and other advocacy efforts CUPA-HR signs on to, visit CUPA-HR's Advocacy Page.