Federal Judge Blocks Department of Education's Title IX Guidance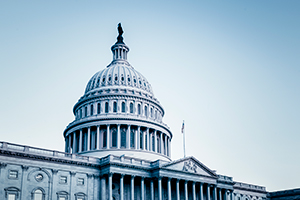 On July 15, a federal judge from the U.S. District Court of the Eastern District of Tennessee issued a preliminary injunction blocking enforcement of the Department of Education's Title IX guidance that prohibits discrimination on the basis of gender identity and sexual orientation. Specifically, the ruling blocks enforcement of a June 2021 Notice of Interpretation issued by the department's Office for Civil Rights (OCR) in light of the Supreme Court's 2020 decision in Bostock v. Clayton County and President Biden's Executive Order, "Guaranteeing an Educational Environment Free from Discrimination on the Basis of Sex, Including Sexual Orientation and Gender Identity."
Twenty Republican-controlled states, led by their attorneys general, were listed as plaintiffs on the case, arguing that the department's guidance should not be enforced by the agency as it did not go through the notice-and-comment rulemaking process and is not codified law. They claimed that the department's enforcement of the guidance also puts states at risk of losing significant federal funding if they do not comply with the guidance. The Eastern District of Tennessee judge ruled in favor of the plaintiffs, issuing the preliminary injunction while stating that the guidance interferes with states' abilities to enforce their own laws that prohibit transgender students from participating on sports teams or using restrooms that align with their gender identity.
As it currently stands, the injunction applies only to the 20 states listed as plaintiffs in the case, potentially impacting the policies of colleges and universities in those states. Notably, the injunction does not impact the recently issued Title IX proposed regulations that are currently undergoing a 60-day notice-and-comment period. If the Title IX regulations are codified into law, however, they may face similar legal challenges.
CUPA-HR will continue to monitor this issue and keep members apprised of any developments related to Title IX.