Senate Committee Holds Hearing on DOL Secretary Nominee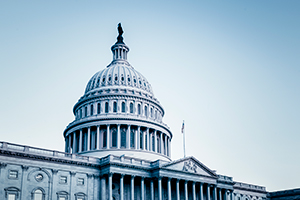 On February 4, the Senate Health, Education, Labor, and Pensions (HELP) Committee held a hearing on the nomination of Boston Mayor Marty Walsh to serve as the Secretary of Labor under the Biden administration. Walsh was nominated to serve as Secretary of Labor on January 7, 2021, beating out many other front runners for the nomination, including California Labor Secretary Julie Su, who has now been nominated to serve as Deputy Secretary of Labor.
If confirmed, Mayor Walsh would be the first union member to serve in that role in nearly half a century. In 1988, he joined the Laborers' Union Local 223, where he ultimately served as president — a position he held until becoming mayor. In the fall of 2010, he was elected secretary-treasurer and general agent of the Boston Metropolitan District Building Trades Council, an umbrella group representing 16 unions of ironworkers, electricians and others. In 2011, he was named head of the Boston Building Trades.
Below we outline some of the important labor issues Mayor Walsh and senators discussed during the hearing.
Labor Unions and the PRO Act
Throughout the hearing, Walsh discussed his commitment to protecting the right to join a union. When asked about recent union representation elections that have been covered in the news, he said that "workers should vote their heart" and "listen to both sides" of the debate. Ranking Member Richard Burr (R-NC) cautioned Walsh against being "in cahoots with unions or management" and told him to confront both labor unions and the employer community to protect rank-and-file workers, to which Walsh replied with a discussion of his commitment throughout his career to build partnerships with differing opinions in order to find the right solutions to various problems.
Committee Chair Patty Murray (D-WA) also announced during the hearing that she, Senate Majority Leader Chuck Schumer (D-NY) and Rep. Bobby Scott (D-VA) would be reintroducing the Protecting the Right to Organize (PRO) Act, which includes over a dozen provisions designed to increase union density. Walsh indicated that he was supportive of the PRO Act and said it was one step toward helping individuals organize freely.
Workforce Development and Higher Education
Walsh noted that all of the senators he met with called for increased attention to workforce development and training programs, and he said he was supportive of increasing the awareness and prevalence of such programs. When discussing workforce development and higher education, he said that higher ed institutions have the infrastructure to maximize job training programs, and community colleges specifically should be used to help create training opportunities for workers.
Worker Safety During the COVID-19 Pandemic
When asked about worker safety during the pandemic, Walsh said essential workers must be protected, saying that worker safety protects not only the workers but the companies, their products and their operations, making it in everyone's best interest to have a safe workforce. He stated that regulations should be strictly enforced, and federal contractors especially should be held accountable for their safety records in order to protect taxpayer money.
Increasing the Minimum Wage
During the hearing, Democrats called for an increase in the federal minimum wage, elimination of the subminimum and tipped wages, and efforts to eliminate the wage gap. Walsh routinely expressed his support for the Biden administration's plans to "build back better" and brought up Biden's commitment to the $15 minimum wage.
On February 11, the Senate HELP Committee voted 18-4 to advance Walsh's nomination out of the committee, opening his nomination for the full Senate vote to confirm his position.
CUPA-HR will continue to track the nomination process and keep members apprised of any significant updates.