House Passes the PRO Act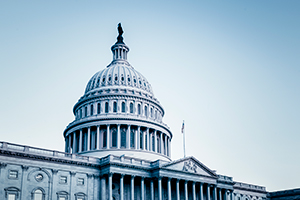 On March 9, the House of Representatives passed H.R. 842, the Protecting the Right to Organize (PRO) Act, which is a massive labor reform bill designed to increase union density. Criticized as a "left-wing wishlist" for unions by House Republicans, the bill passed the House mostly along party lines by a vote of 225-206, with five Republicans joining Democrats in favor, and one Democrat voting against the bill.
The bill includes several provisions that would overhaul existing labor laws, including the National Labor Relations Act (NLRA), the Taft-Hartley Act, and the Labor-Management Reporting and Disclosure Act, and may impose burdens on both employers and employees. Such provisions include:
codifying into law the National Labor Relation Board (NLRB)'s Browning-Ferris Industries joint-employer standard;
expanding upon the existing definition of "employee" by imposing the "ABC test" into the NLRA, which would make it more difficult for workers to operate as independent contractors;
preempting state right-to-work laws, which currently guarantee no worker can be required to join a union or pay dues as a condition of employment in the states where these laws are in effect;
requiring employers to disclose personal contact information of their employees to unions that have petitioned the employer;
prohibiting arbitration agreements in employment contracts;
revoking attorney-client confidentiality for employers and making it harder for businesses to secure legal advice on complex labor law matters;
allowing secondary boycotts, which allow unions to participate in strikes against neutral third parties that are not involved in a labor dispute; and
prohibiting employers from bringing claims against unions that conduct secondary boycotts.
The PRO Act was introduced in the Senate on February 4, the same day it was introduced in the House, and so far it has garnered 41 cosponsors in the Senate. As an original co-sponsor, Senate Majority Leader Chuck Schumer (D-NY) will likely bring the PRO Act to the Senate floor for a vote; however, the legislation is unlikely to gather enough support to receive 10 Republican votes needed to reach the 60-vote threshold to bypass the Senate filibuster.
CUPA-HR will continue to track any developments on the PRO Act's movement once it is considered by the Senate.