House Passes Bill to Increase Workplace Protections for Nursing Mothers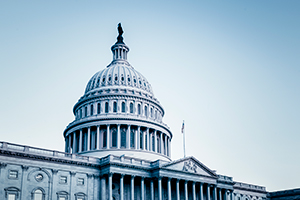 On October 22, 2021, the House of Representatives passed H.R.3110, the Providing Urgent Maternal Protections (PUMP) for Nursing Mothers Act. The bill passed by a bipartisan vote of 276-149 and was supported by business groups such as the U.S. Chamber of Commerce and advocacy organizations, including the American Civil Liberties Union.
As originally written, the PUMP for Nursing Mothers Act amends the Fair Labor Standards Act (FLSA) to expand access to breastfeeding accommodations in the workplace for lactating employees. The bill builds upon existing protections in the 2010 Breaktime for Nursing Mothers Act by broadening breastfeeding accommodations and workplace protections to include salaried employees exempt from overtime pay requirements under the FLSA as well as other categories of employees currently exempt from such protections, such as teachers, nurses and farmworkers. It also clarifies that break time provided under this bill is considered compensable hours worked so long as the worker is not completely relieved of duty during such breaks, and it ensures remedies for nursing mothers for employer violations of the bill.
Before the final vote on the bill, the House also adopted two additional amendments to the PUMP for Nursing Mothers Act that would:
Direct the Government Accountability Office (GAO) to conduct a study on compliance among covered employers, including employee awareness of their rights and proposals to improve compliance; and
Direct the Comptroller General of GAO to conduct a study on what is known about the racial disparities that exist with respect to access to pumping breastmilk in the workplace and submit to Congress a report on the results of such study containing such recommendations as the Comptroller General determines appropriate to address those disparities.
The House-passed bill now moves to the Senate where it is unknown whether or not the bill will garner enough support from Republicans to bypass the sixty-vote filibuster threshold needed to pass.
CUPA-HR will keep members apprised of any actions or votes taken by the Senate on this bill.