Summaries of Recent CUPA-HR Letters and Other Advocacy Efforts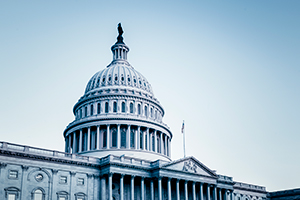 Over the last few weeks, the American Council on Education (ACE), with the support of CUPA-HR and other higher education organizations, sent letters to Congress and federal agencies regarding policies impacting institutions of higher education as they relate to the COVID-19 pandemic. Below is a list and summaries of the letters CUPA-HR has recently signed on to.
CUPA-HR anticipates signing on to more letters from ACE as Congress moves forward with the fourth COVID-19 stimulus package. You can find future letters and other advocacy efforts CUPA-HR signs on to, as well as the letters below, on CUPA-HR's Advocacy page.
Letter Opposing ICE Directive Regarding International Students and the Upcoming 2020-21 Academic Year
On July 10, CUPA-HR joined ACE and other higher ed advocacy groups on a letter to Department of Homeland Security (DHS) Secretary Chad Wolf expressing concern with a July 6 Immigration and Customs Enforcement (ICE) directive that barred international students from remaining in the United States if the college or university they are enrolled mandates the fall semester to be completed fully online. The directive has since been withdrawn by DHS.
Letter to DHS Seeking Clarity on the ICE Directive Regarding the Status of Incoming International Students
On July 22, CUPA-HR signed on to an ACE letter requesting further clarification for international students, their visa status, and whether or not they will be able to enter the country if they have not done so already for the fall semester. This letter came shortly after DHS rescinded its previous guidance that barred international students from entering the U.S. if their courses were fully online. CUPA-HR and other higher education associations requested that DHS permit all international students to enter and stay in the United States for the duration of the fall semester regardless of whether their college or university will be in-person, fully online or a hybrid of the two models.
Letter Urging Congress to Ensure the Department of Education Effectively Implements New CARES Acts Initiatives
On July 22, CUPA-HR signed on to an ACE letter urging Congress to ensure that new initiatives included in the next COVID-19 relief bill are implemented effectively by the Department of Education. The letter explains that, while the Department of Education succeeded in creating a quick and effective method for funding requests and allocation processes for student and institutional grant aid, it failed to provide consistent guidance to determine eligibility for student emergency grants provided under the CARES Act and excluded millions of students from receiving the emergency grants. The letter argued that such financial assistance as provided under the CARES Act should be available to all students enrolled at an institution regardless of their financial status.
Letter to Congress in Support of the SAFE TO WORK Act, Providing Temporary and Targeted Liability Protections Related to the COVID-19 Pandemic
On July 29, CUPA-HR joined an ACE and 77 other higher ed associations in a letter to Congress to support S. 4317, the "SAFE TO WORK Act," which would provide temporary and targeted liability protections related to the COVID-19 pandemic. The letter explains the potential financial burden that COVID-related lawsuits could impose on institutions who have already struggled during the pandemic. Those that signed on argued that liability protections or the lack thereof will play a large role in colleges' and universities' decision-making on when and how to completely resume full operations.
Letter Urging Congress to Make Public and Private Nonprofit Colleges and Universities Eligible for the Paid Sick and Family Leave Refundable Tax Credit and the Refundable Employee Retention Tax Credit
On August 3, CUPA-HR and other higher ed associations joined ACE on a letter to Congress urging them to make public and private institutions eligible for various tax credits that have been either implemented in previous COVID-related legislation or are included in bills that may be included in the next anticipated COVID-19 stimulus bill. Specifically, the signatories request that public and private nonprofit colleges and universities become eligible for the paid sick and family leave refundable tax credit created in the Families First Coronavirus Response Act, that public institutions become eligible for the refundable employee tax credit created by the CARES Act, and that public institutions become eligible for the safe and healthy workplace tax credit included in the American Workers, Families, and Employers Assistance Act.