Senate HELP Committee Holds Hearing for Biden Administration's Labor Nominees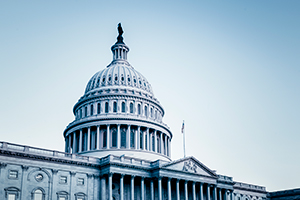 On July 15, the Senate Health, Education, Labor, and Pensions (HELP) Committee held a nomination hearing on David Weil to serve as the administrator of the Wage and Hour Division (WHD) of the Department of Labor (DOL), as well as Gwynne Wilcox and David Prouty to serve as members of the National Labor Relations Board (NLRB). The hearing displayed the partisan nature of the nominations, with Democrats applauding the nominees for their support for workers, and Republicans expressing concern with the nominees' ability to act as neutral arbiters of the law.
In their opening testimonies, nominees presented their leadership goals for their respective agencies and drew on their past experiences to offer insight into their prospective tenures. Weil and Wilcox specifically discussed their previous experience with the DOL and the NLRB, respectively, and all three stated their commitment to working with both workers and employers to restore balance at their agencies.
Here are several topics of interest to CUPA-HR members that were discussed in last week's hearing.
Collective Bargaining for College Students
Regarding student bargaining rights, Sen. Tommy Tuberville (R-AL) questioned Prouty about a paper Prouty wrote on the rights of college students to organize. Prouty said that the paper was written while he was an advocate, but as a member of the board, he will be neutral and will look at all the facts in the case.
Joint Employer Status and Independent Contractors
With respect to joint employment and independent contractors, Weil was asked about his current views on the two subjects, considering his past actions at the WHD while serving under the Obama administration. Through their questions, Republican lawmakers raised concern over Weil's broad interpretation of who would be considered employees and employers and his previously issued standards for determining when companies are joint employers under the Fair Labor Standards Act (FLSA). For independent contractors, Weil responded that the WHD will work under the FLSA and its definition of "employ," as well as use past court and agency guidance to create an economic realities test that can be applied consistently. In response to a question asked by Sen. Roger Marshall (R-KS), Weil also explained that his past work demonstrates that he is not opposed to the franchise model, adding that the WHD's policy must start with what the law says about who is or is not an employer to be able to properly assess the variety of franchise arrangements that may or may not trigger a joint employment status.
Wage Theft
During the hearing, Sen. Tina Smith (D-MN) questioned Weil about how he would approach the issue of wage theft. Weil responded that "data-driven kinds of analysis" will reveal the industries and employers that merit concentrated enforcement efforts. With regard to the Trump administration's Payroll Audit Independent Determination (PAID) program, he said that the agency has to consider the impact of any enforcement or engagement program on compliance. Weil explained that he will evaluate pursuing all programs through the lens of whether the resources expended to conduct an audit will result in sufficiently increased compliance with the law.
Concerns With Neutrality
When questioned by Ranking Member Richard Burr (R-NC) about how they would avoid appearances of impropriety when handling certain cases, Wilcox and Prouty both said they signed President Biden's ethics pledge and will recuse themselves from cases dealing with Service Employees International Union (SEIU) locals with whom they work. They also said for any cases dealing with other SEIU locals or the larger union, they will consult with the ethics officer of the NLRB to determine appropriate steps.
Despite promises of neutrality, Burr characterized the nominees as "partisan idealists set out to remake the American economy to expand the control of government over the lives of workers, employers, job creators and innovators." These sentiments have been echoed throughout the business community, with businesses and associations banding together to publicly oppose these nominees.
Other Labor Nominations Updates 
On July 13, the Senate finally confirmed Julie Su as deputy labor secretary along party lines, months after her Senate HELP confirmation vote. Su faced fierce opposition by Senate Republicans, many of whom disputed her credentials following issues with unemployment insurance fraud in California while she served as the state's labor secretary. On July 14, the Senate additionally confirmed Seema Nanda as the DOL solicitor and Jocelyn Samuels for a second term as a member of the U.S. Equal Employment Opportunity Commission.
The Senate HELP Committee will vote on whether to advance Weil, Wilcox and Prouty out of committee on July 21. CUPA-HR will continue to provide updates regarding labor nominations and confirmations over the coming weeks.