Senate Committee Discusses Name, Image and Likeness Compensation for Intercollegiate Student-Athletes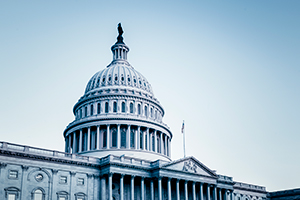 On September 15, the Senate Health, Education, Labor and Pensions Committee held a hearing titled, "Compensating College Athletes: Examining the Potential Impact on Athletes and Institutions." The hearing was part of ongoing Senate discussions on potential federal legislation to permit student-athletes to receive compensation for their name, image and likeness (NIL) while participating in National Collegiate Athletic Association (NCAA) sports.
Witnesses who testified in front of the committee included Rebecca Blank, chancellor of the University of Wisconsin-Madison; Karen Dennis, director of track and field and cross country at The Ohio State University; John Hartwell, vice president and director of athletics at Utah State University; and Ramogi Huma, executive director of the National College Players Association.
In previous hearings on the topic, Republicans, Democrats and most witnesses have agreed that the NCAA's current prohibition against intercollegiate student-athletes receiving compensation for use of their NIL should be reversed. During this hearing, however, some Republicans departed from that stance. Chairman Lamar Alexander (R-TN) and others expressed concerns that NIL compensation could negatively impact institutions, teams and student-athletes alike by triggering employment status for student-athletes, interfering with competitive recruiting practices, creating tension between compensated and uncompensated student-athletes, and cutting teams that do not generate revenue for their institution.
On the other side of the aisle, Democrats maintained their position that NIL compensation would be beneficial for student-athletes. Ranking Member Patty Murray (D-WA) and other Democrats believe that the current system exploits student-athletes for their talent while the NCAA makes money and prohibits the players from doing so as well. They argued that student-athletes could get their fair share of compensation for their efforts if NIL payments were allowed.
Despite the differences, members on both sides of the aisle agreed that Congress needs to step in to ensure that, if the NCAA or states move forward with NIL compensation rules and laws, any federal action will preempt the state laws to ensure nationwide consistency and a fair and equal recruiting process across the country. Both parties expressed concern that with the current patchwork of state laws, NIL compensation could influence recruiting practices and push more athletes to schools in states that accept NIL payments as opposed to schools in states that don't allow NIL compensation.
Blank stated that the NCAA's Division I board of directors is currently in the process of considering new rules for student-athletes to benefit from their NIL, and that by the end of next month, each division should have legislation drafted to update NIL rules. She added that she hopes Congress is able to construct and pass a national framework for NIL, and that it will afford the NCAA with the narrow legal protections needed to implement its decisions.
CUPA-HR will continue to keep members apprised of any discussions or changes to state or federal NIL laws that may impact their institutions.
Related resources:
Congress Explores "Name, Image, Likeness" Compensation for Intercollegiate Athletes