Potential Labor and Employment Policies Resulting From the 2020 Elections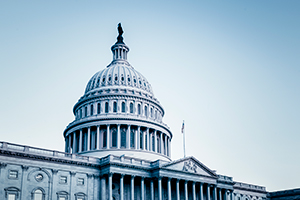 Regardless of who wins the 2020 elections, the higher education community can expect big changes in labor and employment policy. Which policy initiatives are pursued will depend on who occupies the White House and which party controls either (or both) chambers of Congress. To help CUPA-HR members navigate and understand the possible outcomes, we have developed the following two charts outlining the possibilities under a second Trump term or under a Biden administration, as well as the consequences of who controls Congress.
Under a second Trump term, we can expect further implementation of various policies the administration has pursued over the last four years, such as its industry-recognized apprenticeship program (IRAP), as well as continued efforts to reverse lingering Obama-era policies, including the National Labor Relations Board rule speeding up union representation elections. The administration may find room to compromise with congressional Democrats on several issues, including an infrastructure plan, workforce development programs and a potential national paid-leave initiative. That said, should Democrats maintain their majority in the House and take over control of the Senate, gridlock will be expected and substantial, and Democrats will likely push through a variety of progressive workforce bills regardless of veto threats from the White House.
A Biden administration, on the other hand, will pursue unfinished or reversed workforce policy initiatives begun by the Obama administration. With full control of Congress, Democrats will aggressively push for increases in workplace benefits and protections. Should Republicans maintain control of one or both chambers, however, potential compromise could be seen on infrastructure and workforce development issues. Otherwise, gridlock will be likely.
Importantly, Democrats both in and out of Congress, including former President Obama, are calling for the elimination of the filibuster. This threat will likely only be pursued if Biden wins the election, Democrats control both chambers of Congress, and Republican senators prevent their respective chamber from voting on bills critical to the Democratic base, such as votes on environmental protections or union-backed bills like the Protecting the Right to Organize (PRO) Act. Chuck Schumer (D-NY), who would likely be the Senate Majority Leader in this instance, would face substantial pressure from the party's base to change the filibuster rules to ensure passage of their party's agenda. Schumer is up for reelection in 2022 and would likely face a challenge from the left if he is unable to push through high-profile votes.