OSHA Updates Guidance to Help Employers Protect Workers from COVID-19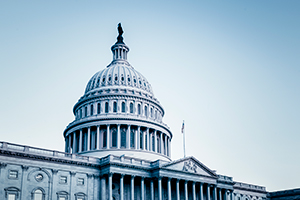 On August 13, the U.S. Department of Labor's Occupational Safety and Health Administration (OSHA) issued updated guidance regarding workplace COVID-19 precautions, incorporating, among other things, the Centers for Disease Control and Prevention (CDC)'s July 27 guidance for fully vaccinated people.
OSHA's guidance recommends that fully vaccinated employees in areas of substantial or high community transmission wear masks in public indoor settings in order to protect the unvaccinated. Additionally, the guidance recommends that fully vaccinated workers who have close contacts with people with COVID-19 wear masks for up to 14 days unless they have received a negative COVID-19 test at least 3 to 5 days after such contact. OSHA also suggests within the guidance "that employers consider adopting policies that require workers to get vaccinated or to undergo regular COVID-19 testing — in addition to mask wearing and physical distancing — if they remain unvaccinated."
Updated Guidance for Employers
According to the updated guidance, employers should:
Facilitate employees getting vaccinated, such as by granting paid time off for the initial appointments and any recovery period that is needed from any side effects;
Instruct infected workers, unvaccinated workers who have had close contact with someone who tested positive for COVID-19, and all workers with COVID-19 symptoms to stay home from work to prevent transmission. This should include ensuring that absence policies are non-punitive and eliminating or revising policies that encourage workers to come to work sick or when unvaccinated workers have been exposed to COVID-19;
Implement physical distancing in all communal work areas for unvaccinated and otherwise at-risk workers, which may include limiting the number of unvaccinated or otherwise at-risk workers in one place at any given time. Examples of this include implementing flexible worksites (e.g., telework); implementing flexible work hours (e.g., rotate or stagger shifts to limit the number of such workers in the workplace at the same time); delivering services remotely (e.g., phone, video, or web); or implementing flexible meeting and travel options for such workers;
Provide all workers with face coverings or surgical masks at no cost, unless their work task requires a respirator or other personal protective equipment;
Educate and train workers (employees, contractors, and any other individuals on site) on COVID-19 policies and procedures using accessible formats and in languages they understand;
Suggest or require that unvaccinated customers, visitors or guests wear face coverings in public-facing workplaces, such as retail establishments, and that all customers, visitors or guests wear face coverings in public indoor settings in areas of substantial or high transmission;
Maintain ventilation systems by, among other things, ensuring heating, ventilation and air conditioning (HVAC) systems are operating in accordance with the manufacturer's instructions and design specifications;
Perform routine cleaning and disinfection, including following CDC cleaning and disinfection recommendations where someone suspected of having or confirmed to have COVID-19 has been in the workplace facility within 24 hours;
Record and report COVID-19 infections and deaths in compliance with mandatory OSHA rules in certain instances; and
Implement protections from retaliation and set up anonymous methods for workers to raise concerns about COVID-19-related hazards.
OSHA's guidance also states that employers must follow all of OSHA's standards that apply to protecting workers from infection and reminds employers that many healthcare workplaces will be covered by the Emergency Temporary Standard. Finally, OSHA provides additional recommendations to protect unvaccinated workers and other at-risk workers in manufacturing, meat and poultry processing, seafood processing and agricultural processing.
CUPA-HR will continue to track and keep members apprised of CDC and OSHA updates on workplace guidance and requirements.
For the latest COVID-19 guidance, regulations and resources that support HR and higher ed administrators, visit CUPA-HR's COVID-19 Resources page.