Congress Explores "Name, Image, Likeness" Compensation for Intercollegiate Athletes
On February 11, the Senate Commerce, Science, and Transportation Committee's subcommittee on Manufacturing, Trade, and Consumer Protection held a hearing entitled, "Name, Image, and Likeness: The State of Intercollegiate Athlete Compensation." The hearing was intended to "examine ongoing issues that surround compensating collegiate athletes for the use of their name, image and likeness."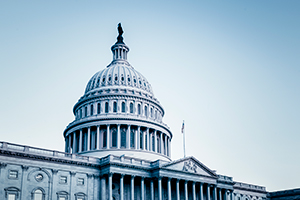 Testifying before the subcommittee were Bob Bowlsby, commissioner of the Big 12 Conference; Mark Emmert, president of the National Collegiate Athletic Association (NCAA); Dr. Douglas Girod, chancellor of the University of Kansas; Ramogi Huma, executive director of the National College Players Association; and Mr. Kendall Spencer, chair of the Student-Athlete Advisory Committee of the NCAA. Rep. Anthony Gonzalez (R-OH), a former student-athlete at Ohio State University, also provided testimony.
Both sides of the aisle and all witnesses agreed that the NCAA's current prohibition against intercollegiate student-athletes receiving compensation for use of their name, image or likeness (NIL) should not remain in place. To correct the situation, states have been moving forward with various legislative proposals, resulting in a patchwork of laws that create an uneven and unfair playing field among higher education conferences and institutions. This is especially evident in recruitment efforts. Bowlsby explained that within one conference, schools from one state might be able to offer substantially more lucrative NIL packages to recruits as compared to others in the conference, resulting in unfair competition.
Policymakers and most of the witnesses at the hearing advocated for a solution at the federal level that would preempt this patchwork of state laws. All those speaking at the hearing agreed that any federal law should bar third-party compensation from being used in recruitment and transfer efforts. Witnesses feared that allowing third-party involvement in these efforts would create an environment where schools and third parties constantly attempt to pry top players away from their competitors.
Policymakers also believed federal policy should avoid forcing student athletes into "employee status" and protect the fundamental principles of college athletics. Many cautioned against creating policy that only focuses on the top-tier athletes playing top-tier sports at top-tier athletic programs. They explained that most student-athletes would not benefit from NIL compensation rules, so Congress and the NCAA should be careful not to create "secondary status" for those student-athletes.
Emmert stated that the NCAA created a working group composed of all relevant stakeholders to develop new policies on the issue. Their report is expected to be released in April 2020. Emmert welcomed Congress to provide their input, and the NCAA plans to implement the new policies by January 2021. Rep. Gonzalez announced that he is currently working on federal legislation on the issue and hopes it will be bipartisan.
CUPA-HR will monitor any legislative developments as they become available.