House Passes Equality Act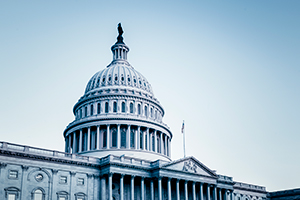 On February 25, the House of Representatives passed H.R. 5, the Equality Act by a vote of 224 to 206. Three Republicans joined Democrats to pass the bill that would make employment discrimination and other forms of discrimination based on sexual orientation and gender identity unlawful.
The bill would amend existing civil rights laws — including the Civil Rights Act of 1964, the Fair Housing Act, the Equal Credit Opportunity Act, the Jury Selection and Services Act, and several laws regarding employment with the federal government — to explicitly include sexual orientation and gender identity as protected characteristics. The legislation also amends the Civil Rights Act of 1964 to prohibit discrimination in public spaces and services and federally funded programs on the basis of sex.
Rep. David Cicilline (D-RI) introduced the bill to the House on February 18, and Sen. Jeff Merkley (D-OR) introduced companion legislation in the Senate on February 23. In 2019, the Equality Act passed the House with a bipartisan vote of 236-173, however, it did not receive consideration in the Republican-led Senate, and former President Trump signaled that he would likely veto the bill. Since that vote, the U.S. Supreme Court issued a historic opinion in Bostock v. Clayton County, which ruled that the Civil Rights Act's Title VII prohibition against sex-based employment discrimination prohibits employers from discriminating against workers on the basis of their sexual orientation and established a new nationwide protection for LGBT workers.
CUPA-HR, along with 50 other trade associations, sent a letter to House leaders urging passage of the Equality Act, stating that the protections within H.R. 5 "remain vitally important even after the Supreme Court's decision in Bostock v. Clayton County," as clear, affirmative statutory language on point with that decision "will forestall endless litigation" to figure out what the opinion means.
Next Steps
The bill now moves to the Senate where Senate Majority Leader Chuck Schumer (D-NY) has promised to bring the bill to the Senate floor for a vote. However, despite the strong support of President Biden and most Democratic members of the Senate, the bill still faces slim odds of enactment, as some moderate Republicans — including Sen. Susan Collins (R-ME), the Senate measure's sole GOP sponsor last session — have announced they won't co-sponsor the bill, making it unlikely that the legislation will receive the 10 Senate Republican votes needed to overcome the filibuster.