House Committee Holds Markup on Pregnant Workers Fairness Act
On January 14, the House Education and Labor Committee held a markup and voted on H.R. 2694, the Pregnant Workers Fairness Act. The bill, introduced in May 2019 by Rep. Jerry Nadler (D-NY), would require employers with 15 or more employees to provide reasonable accommodations to pregnant workers, workers who just had a child, or those with related medical conditions unless the accommodation would cause undue hardship for the employer.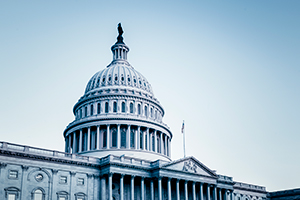 The legislation forbids retaliation against pregnant workers for requesting an accommodation and bars employers from denying workers opportunities based on pregnancy, childbirth or related medical conditions. The bill was passed out of committee with a vote of 29-17; two Republicans, Reps. Elise Stefanik (R-NY) and James Comer (R-KY), voted with the committee's Democrats to pass the legislation. The bill has a wide variety of stakeholder support, including support from the Women's National Law Center, American Civil Liberties Union and U.S. Chamber of Commerce.
Democrats on the committee made clear they believe something needs to be done at the federal level to combat pregnancy discrimination in the workplace. They argued that the Supreme Court's 2015 decision in Young v. UPS made it far too difficult for workers to prove pregnancy discrimination, citing a 2019 report from A Better Balance that found that since the decision was issued, two-thirds of pregnant workers asking for accommodations at work lost their cases in court.
In the Young decision, the Supreme Court ruled that employers were required to accommodate pregnant workers only if they provided accommodations to other non-pregnant workers in similar conditions with regards to their ability to work. Committee Democrats explained that the decision placed an extremely high burden of proof on employees, many of whom do not have access to the employers' history of offered accommodations.
Republicans' main opposition to the bill rests on the legislation's exclusion of a provision from the Civil Rights Act that exempts religious organizations from being forced to make employment decisions that conflict with their faith. During the markup, Ranking Member Virginia Foxx (R-NC) offered an amendment that would incorporate the provision into H.R. 2694. Committee Democrats, however, voted it down, claiming the provision would allow employers to discriminate against employees if they disagree with choices made by the employee, such as use of in vitro fertilization, interracial or interfaith relationships, or choosing to have a child out of wedlock.
The legislation now goes to the House floor for a full vote. Timing of a vote is uncertain, but CUPA-HR will continue to monitor the legislation as details are revealed.
Related CUPA-HR resource:
Pregnancy Discrimination Toolkit (CUPA-HR members-only resource)