Department of Education Details Plans to Review Trump Administration's Title IX Rule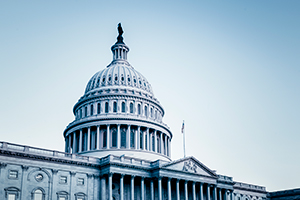 On April 6, the Department of Education's Office for Civil Rights (OCR) issued a letter outlining plans to review the Trump administration's final rule on Title IX, which changed how colleges and universities must handle allegations of sexual assault and harassment under Title IX of the Education Amendments of 1972.
The letter comes nearly a month after President Biden issued an Executive Order (EO) titled, "Guaranteeing an Educational Environment Free from Discrimination on the Basis of Sex, Including Sexual Orientation or Gender Identity." The EO specifically directs the Secretary of Education to conduct a review of the Trump administration's regulations and calls for the Secretary to "consider suspending, revising, or rescinding" any agency actions relating to the Trump regulations if they are deemed inconsistent with the Biden administration's policy to "guarantee an educational environment free from discrimination on the basis of sex, including discrimination in the form of sexual harassment," as set forth in the EO.
Details of Review
The April letter outlines a few upcoming events and guidance documents that interested stakeholders can expect in the upcoming weeks and months. First, OCR plans to hold a public hearing during which interested stakeholders, including students, educators, and others with expertise in Title IX, may participate through oral comments and written submissions. According to the letter, more information on the public hearing's date, time and registration process will be published on the News Room section of OCR's website in the coming weeks.
In addition to the public hearing, OCR also plans to issue a questions-and-answers (Q&A) document in the coming months that will assist schools, students and others by providing "additional clarity about how OCR interprets schools' existing obligations under the [Trump administration's] 2020 amendments." The letter states that the Q&A document will include guidance for "the areas in which schools have discretion in their procedures for responding to reports of sexual harassment."
The letter finally states OCR's intention to publish a notice of proposed rulemaking (NPRM) in the Federal Register to amend the Trump administration's Title IX regulations. OCR plans to use public comments, in addition to its comprehensive review of the Title IX regulations, to put together its NPRM, which will then provide stakeholders another opportunity to share comments through the formal notice-and-comment period. This will be the first step in what will likely be a multi-year regulatory review process to amend or rescind the Trump administration's Title IX rule.
CUPA-HR intends to follow the review processes outlined in this blog post and will work with other higher education associations to participate in the public commenting portions of the review. We will keep members apprised of any updates we receive from the Department of Education.