Cal/OSHA's Emergency Temporary Standard Implements COVID-19 Workplace Safety Protocols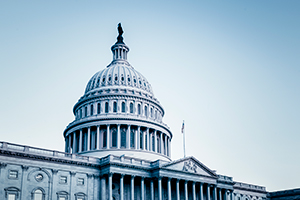 On November 30, the California Division of the Occupational Safety and Health Administration (Cal/OSHA) issued a final Emergency Temporary Standard (ETS) implementing COVID-19 workplace safety protocols that went into effect immediately and apply to all employees and places of employment within the state, including universities and colleges, regardless of size or industry sector. As indicated in the order, the ETS will remain in place for six months or until Cal/OSHA can implement a permanent infectious disease rulemaking.
The standard currently only applies to California, but there is speculation that this ETS could be the framework for a federal OSHA ETS that will apply nationally once President-Elect Joe Biden assumes office. Cal/OSHA's current chief and architect of the California ETS, Doug Parker, sits on the Biden administration's transition team that focuses on the Department of Labor. With him in this position, it is reasonable to expect that he will push to implement the state rules at the national level.
A summary of ETS requirements is set forth below. For more information on the California ETS, Cal/OSHA has also provided FAQs and a fact sheet and maintains a resource page for the ETS.
COVID-19 Prevention Program
Under the Cal/OSHA ETS, all employers are required to maintain a written "COVID-19 Prevention Program" that must be available to employees, their representatives and government agencies. The program is required to incorporate all applicable state and local health department orders and guidance, as well as the following prevention mechanisms:
Systems for communicating key information to employees;
Identification, evaluation and correction of COVID-19 hazards;
Processes for investigating and responding to COVID-19 cases in the workplace;
Training and instruction for employees on relevant information and processes;
Physical distancing and face-covering requirements;
Engineering controls, administrative controls and personal protective equipment (PPE) requirements;
Reporting, recordkeeping and access requirements;
Rules excluding from the workplace workers exposed to COVID-19; and
Criteria for employees to return to work following exposure or infection.
Cal/OSHA has provided a model written program for businesses struggling to implement their own.
Testing Requirements and Outbreak Worksites
In addition to the COVID-19 Prevention Program, employers are required to follow testing and outbreak-site guidelines as directed in the Cal/OSHA ETS. Specifically, the ETS requires employers to notify all workers who may have been exposed to the virus at the workplace within one business day, and employers must provide testing for all exposed employees during the employee's working hours at no cost to the employees. COVID-19 tests that the employer provides are required to be approved by the United States Food and Drug Administration (FDA) or have an Emergency Use Authorization from the FDA.
According to the ETS, a workplace is identified as an outbreak site if the local health department identifies it as such or if three or more COVID-19 cases emerge within 14 days at the workplace. The ETS requires employers to provide testing to all exposed employees immediately, as well as one week later and continuously at least once per week after the outbreak declaration until the workplace is no longer considered the site of an outbreak.
The ETS also includes provisions that declare a worksite as a major outbreak site if 20 or more COVID-19 cases emerge within a 30-day period. In the case of a major outbreak, employers are required to notify the local health department of an outbreak immediately and no longer than 48 hours after they know or should have reasonably known of the outbreak. All employees who work at major outbreak sites must then be tested twice a week until the workplace is no longer the site of a major outbreak.
Paid Leave and Returning to Work
As a hazard mitigation mechanism, the Cal/OSHA ETS sets standards for providing paid leave and criteria for returning to work for workers exposed to the virus. With respect to paid leave, the ETS specifically states that workers may not return to the workplace for 14 days if they are exposed to COVID-19, but the employer must continue to provide their wages, seniority, rights and benefits. Employers are allowed to use employer-provided sick leave benefits for this purpose and may consider benefit payments from public sources in determining how to maintain earnings where the law permits it and when their absence is not covered by workers' compensation.
The ETS provides return-to-work criteria for employees depending on whether or not they develop COVID-19 symptoms after testing positive. According to the ETS, employees with COVID-19 symptoms must wait at least 10 days after their COVID-19 symptoms first appeared, have at least 24 hours pass since a fever has resolved without medications, and have COVID-19 symptoms improve before they can return to work. Employees with COVID-19 who never develop symptoms must wait a minimum of 10 days since the date of their first positive test before returning to work. In both cases, employees are not required to provide a negative COVID-19 test before they return to work.
Employer-Provided Housing and Transportation
The Cal/OSHA ETS also includes provisions to mitigate COVID-19 risk in employer-provided housing and transportation. According to the ETS, employers should first prioritize housing and transportation assignments to residents who maintain a household together outside of work, and second, individuals who work in the same crew or at the same worksite. Only when no other housing or transportation alternatives are possible should employers prioritize employees who do not maintain a common household or worksite. The ETS also requires employers to implement and enforce sufficient physical distancing, ventilation, cleaning and disinfection protocols for employer-provided housing and transportation. The ETS also requires them to continuously screen employees for COVID-19 cases. In the situation of a COVID-19 case in a housing unit, employers must take steps to isolate individuals with COVID-19 from household members who did not test positive or show symptoms for COVID-19. For transportation, screening must be used to exclude any driver or rider who shows symptoms or tests positive for COVID-19 from riding with others.
CUPA-HR will continue to keep members updated on the status of Cal/OSHA's ETS and any developments on the possibility of a national OSHA ETS.