August Recess Roundup: Congressional and Regulatory Updates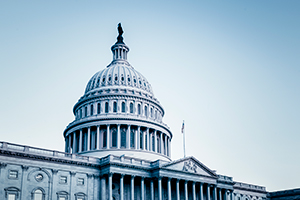 When August arrives, Congress leaves D.C. and heads to their home districts for the annual August recess period. To keep CUPA-HR members apprised of recent and future actions on the Hill and in federal agencies, here are highlights of the latest actions by Congress, nominations they'll have to consider when they return, and regulations that may be issued throughout the month.
Legislative Updates
On August 16, President Biden signed the Inflation Reduction Act into law following its passage, along partisan lines, in both the U.S. Senate and House of Representatives. The Inflation Reduction Act, which is a slimmed down version of the reconciliation bill Democrats have been pushing for, focuses on policies to mitigate the impacts of climate change, reduce healthcare costs and increase tax revenue to reduce the federal budget deficit. This reconciliation bill was narrowed down from the "Build Back Better" agenda, a step necessary to gain support from Senators Joe Manchin (D-WV) and Kyrsten Sinema (D-AZ) to get the bill over the 50-vote threshold. Notably, the final package did not include "Build Back Better" provisions like paid leave, universal community college and childcare.
Additionally, on August 9, President Biden signed the CHIPS and Science Act, which provided new funding to boost U.S. investments in research and manufacturing of semiconductors. With respect to the research investments, the bill includes a five-year, $81 billion authorization of the National Science Foundation to go toward research funding. Additionally, the bill provides new funding to historically black colleges and universities and other minority-serving institutions, and for STEM programs at colleges and universities.
Nominations Awaiting Confirmation
On July 27, President Biden announced Jessica Looman as the new nominee for the Department of Labor (DOL)'s Wage and Hour Division Administrator. Looman has been serving as acting administrator for the agency since June 2021. Her nomination replaces Biden's previously withdrawn nomination of David Weil, who failed to garner enough support in the Senate to be confirmed. Looman's nomination will have to go through the Senate Health, Education, Labor and Pensions (HELP) Committee prior to going to the Senate floor for a full vote. Timing on both votes are uncertain at this point.
Additionally, Kalpana Kotagal's nomination for the Equal Employment Opportunity Commission (EEOC) continues to be held up in the Senate. In May, the Senate HELP Committee deadlocked on a vote to move her nomination to the full Senate, which means the full Senate will have to vote to advance her nomination out of committee — a logistical hurdle in a 50-50 Senate with sparse time on their legislative calendar. The result of this hold up means the EEOC will continue to operate with a Republican majority as federal statute allows Republican Commissioner Janet Dhillon, whose term expired in July, to remain an active member of the EEOC while her successor's nomination is pending. If and when nominee Kotagal is confirmed, she will replace Commissioner Dhillon and tip control of the EEOC to a 3-2 Democratic majority. Her confirmation vote is also uncertain at this point.
Regulatory Updates
Though not guaranteed, there may be several proposals and final regulations that may be released by the Department of Education, the DOL and other relevant agencies throughout the month. Some of these include the expected proposed rule on Form I-9 remote verification flexibilities from the Department of Homeland Security, which has already had its review completed by the White House; a proposed rule on independent contractor classification, which was sent to the White House for review in July; and a final rule on the Deferred Action for Childhood Arrivals program, which has a target release date set for August.
In addition to these proposed and final rules CUPA-HR is waiting to be released, the Department of Education is still undergoing its notice-and-comment period for the Title IX proposed rule that was released in June. CUPA-HR is assessing the proposal and will put together comments in response to the proposed rule. Comments are due September 12.
CUPA-HR will keep members apprised of legislative and regulatory actions as August recess continues and we move into the fall.