August Legislative Policy Roundup: Update for Higher Ed HR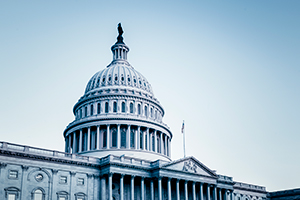 Though August is typically a quiet time in Washington, D.C., legislative activity the first half of the month remained steady in preparation for a busy fall. To keep members updated on what to expect, the CUPA-HR government relations team pulled together the following summary of recent actions that will continue to take shape after Congress returns from the August recess.
DOL and NLRB Nominations
On July 28, the Senate confirmed President Biden's two nominees to the National Labor Relations Board (the Board) — Gwynne Wilcox and David Prouty. Wilcox, a union attorney, was approved with a vote of 52-47; and Prouty, general counsel for a large Service Employees International Union local bargaining unit, was approved 53-46. Wilcox immediately joined the Board, filling the currently vacant Democrat seat, while Prouty will wait to join at the end of August, when Republican member William Emanuel's term expires. Once Prouty takes his seat, the Board will have a 3-2 Democrat majority.
We will likely see a dramatic change in policy out of the NLRB once this transition occurs. On August 12, Biden's newly-placed NLRB General Counsel Jennifer Abruzzo issued Memorandum GC 21-04 to the NLRB's regional offices identifying issues and cases that she wants directed to the NLRB for review. Some of the more than 40 issues and Trump-era decisions she flagged for review include union access to the workplace and employer property, employee versus independent contractor status, and Board jurisdiction over religious institutions.
On August 3, the Senate Health, Education, Labor, and Pensions (HELP) Committee deadlocked 11-11 on David Weil's nomination to be administrator of the Department of Labor's Wage and Hour Division (WHD), failing to pass his nomination out of committee. Weil, who also served as administrator of the WHD during the Obama administration, was a key contributor to the Obama-era overtime final rule, which raised the minimum salary threshold from $23,660 to $47,476 and that was subsequently struck down by a federal court.
The impasse means the full Senate will now have to vote to discharge his nomination from committee (bring it out of committee and to the floor for consideration). His nomination, which is expected to pass by a tight margin, is anticipated to take place sometime this fall after the Senate returns from their August recess.
Infrastructure Bills
President Biden and Congress have been working over the past couple of months to create two major pieces of infrastructure legislation: the bipartisan infrastructure bill and the Democrat-led budget reconciliation bill.
On August 10, the Senate voted 69-30 to pass the bipartisan infrastructure package, H.R. 3684, the Infrastructure Investment and Jobs Act. The bill provides $1.2 trillion in funding for investments into "hard infrastructure," such as the surface transportation repairs, broadband access, and power grid modernization, in addition to provisions to expand clean energy alternatives, such as electric vehicles.
Shortly after the Senate passed H.R. 3684, they wrote up a $3.5 trillion budget resolution and passed this second piece of legislation on August 11 by a vote of 50-49 along party lines. The resolution will allow Democrats to move forward with a second, larger "soft infrastructure" budget reconciliation bill without the support of Republicans. The resolution still needs to be taken up and passed by the House before any legislative language is written for the final reconciliation bill, but items being considered include expanded paid family and medical leave, affordable and accessible child care, tuition-free community college, and an expansion of green energy technology and solutions to mitigate climate change.
Now that the bipartisan infrastructure bill and the budget resolution have passed the Senate, the House will have to take up both pieces of legislation when they reconvene on August 23. The discussion and subsequent finalization of both the bipartisan infrastructure bill and the budget reconciliation bill could take months.
Pregnant Workers Fairness Act
On August 3, 2021, the U.S. Senate Committee on Health, Education, Labor and Pensions (HELP) advanced H.R. 1065, the Pregnant Workers Fairness Act (PWFA) with a 19-2 vote. The bill, which would require employers to make reasonable accommodations for qualified employees affected by pregnancy, childbirth or related medical conditions, was passed by the House of Representatives on May 14, 2021. The legislation now moves to the Senate floor where timing on a vote is uncertain; however, given the strong bipartisan committee vote to advance it to the floor, it is likely that it will be approved by the Senate and forwarded to President Biden.
Ongoing Updates from D.C.
CUPA-HR's D.C.-based government relations team will monitor these and other emerging legislative and regulatory issues and provide frequent updates to members. Please follow the CUPA-HR blog, watch for updates in the weekly eNews, and visit the Advocacy section of the website.